Ladakh – adventurous honeymoon destination
Looking for a honeymoon destination, but not the one which is on everyone's list?
How about a combination of romance and adventure?
If yes, Leh Ladakh is the answer!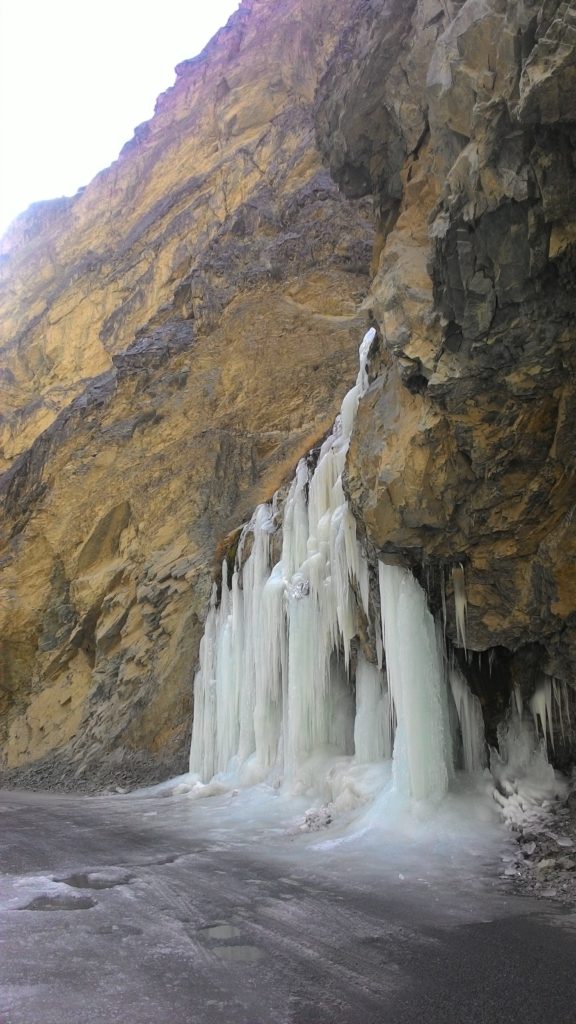 The adventure of this pristine place starts right from the moment you enter its skies. The first view that you'll see from your aircraft is indescribable. The song 'Ye haseen wadiya, ye khula aasman' from the movie Roja can be an apt background score! 😀
Beauty of Ladakh is Divine. If there's a heaven on earth, it is HERE!
Its geography is completely different from other hill stations of our country. The snow-capped mountains (which are so close that you may feel intimidated), long smooth curvy roads, clear blue sky and turquoise waters will sweep the floor off your feet. No wonder it is a popular location for our filmmakers too.
Every mountain looks different from the other with unique shapes – a human face, some animal, whatever your wild imagination can make of them; color and texture.
Long road trips on the shiny black top roads here will take you through the essence of this Cold Desert. It is composed of tranquillity, barren hills, high mountain passes, frozen waterfalls, wildlife (Ibex and Marmot being the star attractions), Gompas, the locals and their strange mud houses. You would wish the drive never ends. Oh so thrilling, yet so romantic! <3
Wait, the food is not too behind. Healthy, yet so delicious Tibetan cuisine will surely excite your taste buds. So, here are the various things Just-Married love birds who like living on the edge MUST do in this Paradise.
1. Biking, Camping, Trekking
Bike trip across Ladakh is one of the best ways to explore this Land of High Passes. And what better way to get intimate than staying with your love in the cozy tents by the river? Go hiking together through the spell binding landscape exploring the local culture and also each other. After all, "Those who travel together stay together" 😉
2. PangonTso Lake and Nubra Valley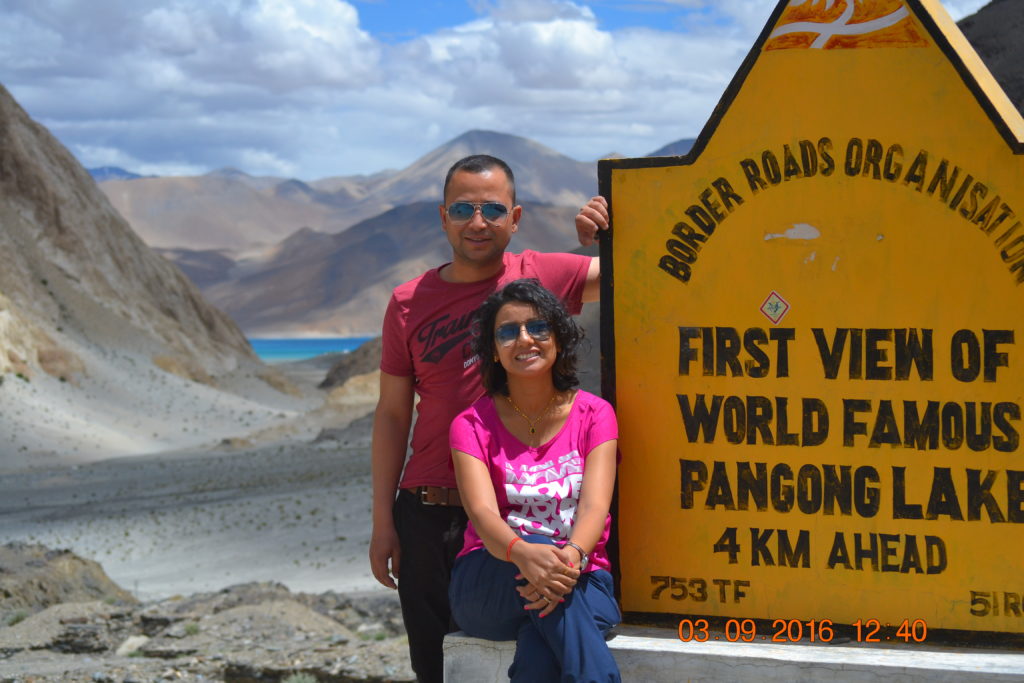 The breathtaking view of Pangong Tso lake will make you thank God for giving this life. Take pictures and selfies here and cherish them forever. Surely you'll feel ecstatic for being so close to China as 2/3 of this lake falls in the neighboring country. On the way treat your eyes to the scenic landscape at Changla Pass, World's Third Highest pass at 17,688 Ft. Another must-visit is Nubra Valley via Khardungla Pass which is World's Highest Motorable pass at 18,360Ft. You can get memorable pictures clicked on adorable rare double humped camels here.
3. Kargil War Memorial, Dras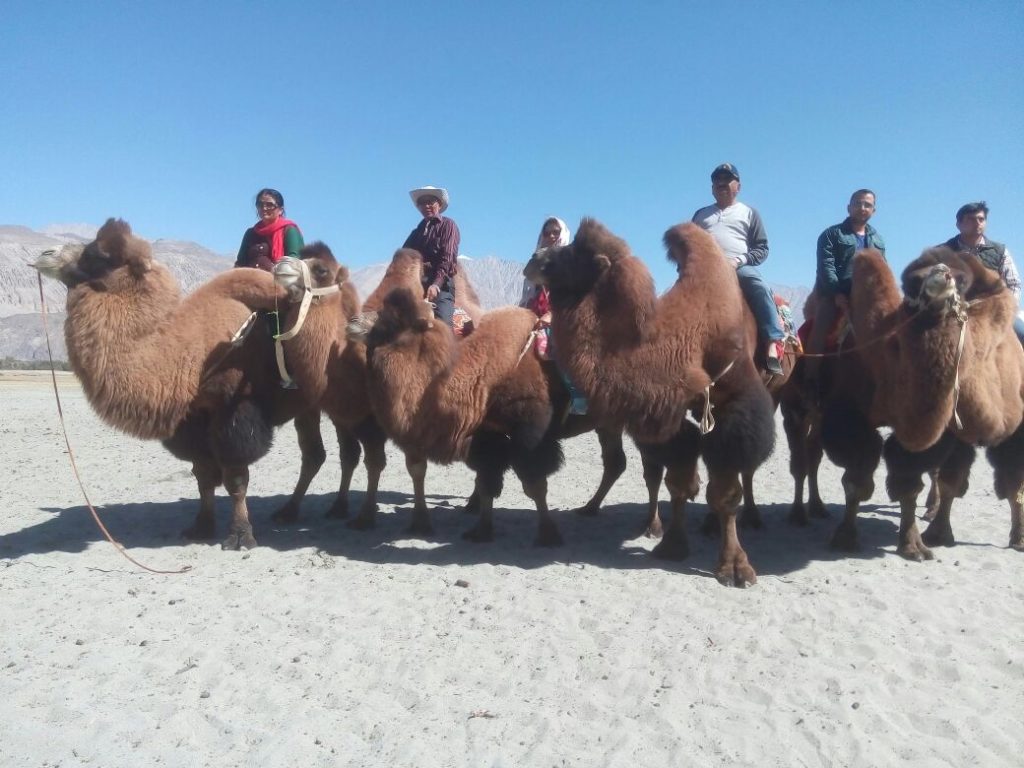 Pay tribute to our real heroes who were martyred in the 1999 Kargil War. An enlightening brief is given by army personnel about the war while showing the various peaks around captured by India (like the famous Tiger Hill, Batra Top) in front of the sandstone wall with the martyrs names inscribed. You'll feel emotional and very proud of our Indian Army. It will surely make you go back home and watch LOC Kargil again.
4. Lamayuru
You need to see it to believe it! Also known as 'The Moonland' pertaining to its similar geographical features as of Moon, this picture-perfect place is like a dream.
5. Sangam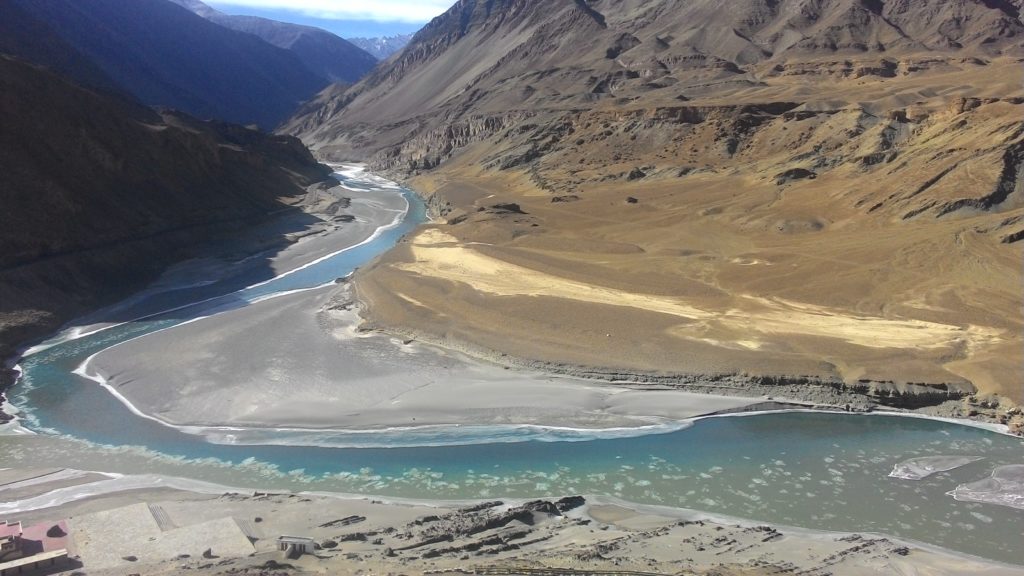 The confluence of Indus and Zanskar rivers is a captivating sight – the blue water of Indus clearly joining the muddy water of Zanskar river. It is also the end destination of river rafting, another adventure sport you can indulge in.
6. Gurudwara Pathar Sahib
This holy place has great significance. It houses the boulder which became soft when came in contact with Guru Nanak and has his body shape embossed in it. The Gurudwara is maintained by the Indian Army and serves hot tea, snacks, halwa and food (langar) as prasad.
7. Monastries
Enjoy the beauty and serenity of some of the best Gompas of our country here. The fluttering flags, prayer wheels, calm Lamas, age old paintings, murals and statues will mesmerize you.
8. The Hall of Fame
Get a sense of patriotism incited at this beautiful museum and memorial established by the Indian Army in memory of the brave soldiers who lost their lives in the Indo-Pak wars.
9. Food Food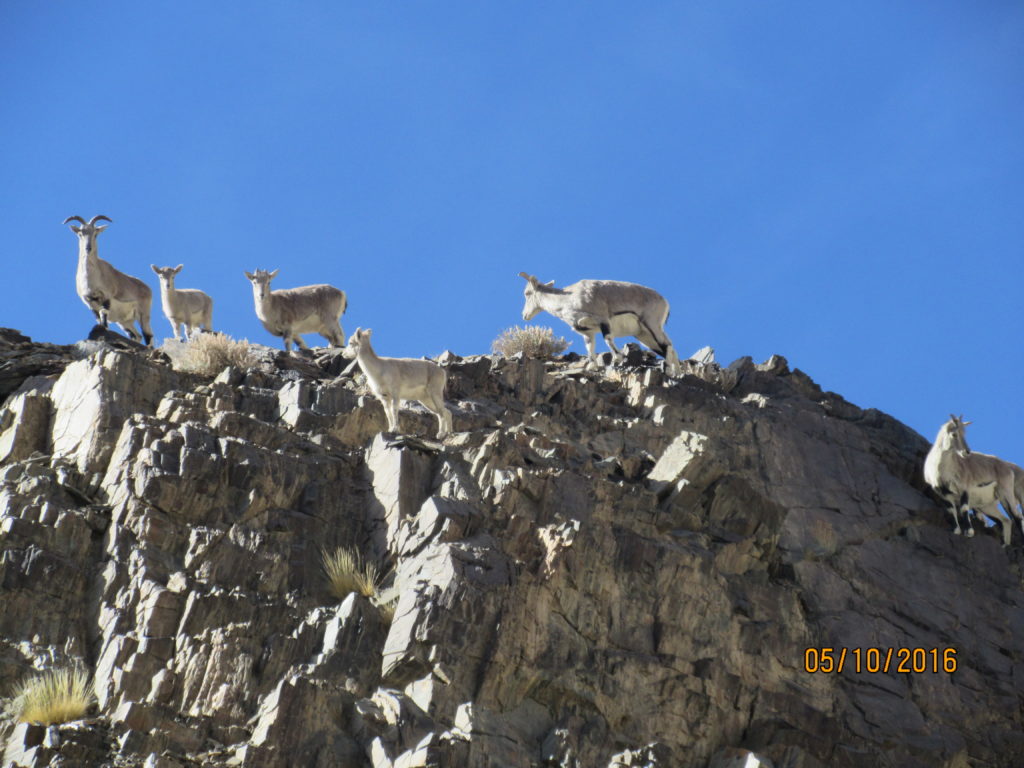 Ladakh is the right place to relish authentic Tibetan and Kashmiri cuisines, my favorite being The Tibetan Kitchen and The Grand Dragon in Leh. Also, try awesome continental breakfast at the bakeries of here, my favorite being Gezmo Bakery. Their rejuvenating hot ginger lemon honey drink is like a drug!
10. Shopping
For all the silver junkies, welcome to the Land of Silver Jewelry. Pick up some gorgeous modern silver jewelry from Lhamo Pearls (again my another favorite) at Moti Market. You can add to your collection some exquisite traditional Ladakhi silver jewelry too. The local markets offer lovely Tibetan and Buddhist artifacts, crockery, Kashmiri handicrafts, Pashmina shawls and woolens, apricots.
At the end, you'll surely carry back home some magical poster-like-images of Ladakh and pat your back for travelling on some of the world's highest mountains.
Oh, and please don't forget to take pictures with your spouse at every "world-significant" signboard 😛
So are you ready for the roller-coaster ride?                                                                                                                      
*All the images are owned by the author.