This article is especially for those travel bugs who have the preconceived notion that all pregnant women are not supposed to move around much and for those who are confused by all the cautioning advises coming from their well-meaning relatives. Read on my exciting journey through those 9 months and also bust some of the myths!
On a regular visit to my Gynae, I got the most pleasant shock of my life. The doc broke out the news that I was eight weeks pregnant, ALREADY!
Shocking news for two reasons:

The silly me, did not even once consider pregnancy as the reason for no period for the past two months! I was completely unprepared for such revelation.
The crazy things I had done in the past months.
Flashback:
I was teaching at a school in Kargil. I had volunteered to take dance classes in addition to my already hectic schedule. I was jumping and hopping to the tunes of Chicken Kukduku and Nacho saare jee phad ke!
I had been part of wild house parties. Imagine how would one react on getting good drinks, food, music and lounge like ambience in a place like Kargil? Yes, exactly that!
A trip to Bangalore and Goa which involved traveling by road, air and rail. Kargil → Leh → Chandigarh → Delhi →Bangalore → Goa → Bangalore → Delhi → Dehradun. This in eight days!
As I waited for my ultrasound test, all these memories haunted me. I had never read, discussed or even paid attention to matters of conceiving and pregnancy as I found them too auntiesh 😛
In the ultrasound room, I had the experience of a lifetime! On the screen, I saw a tiny fetus and heard my baby's heartbeat too (which I assumed to be the sound of the machine releasing a print out…hehe). That's when a tear trickled down my cheek and I realized I had not been dreaming. Reality dawned upon me that I was soon going to be a Mommy! It made me anxious for having done anything wrong with my baby's development.
But all this anxiety vanished as I spoke with my Gynae, read books and researched on the internet. Eventually I learnt that I should only listen to my body and nothing else. My baby and I were hale and hearty. In fact, my first crucial eight weeks were spent away playfully, without any unnecessary apprehensions.
My belly started to grow from fourth month onwards, although my clothes still fit me, and I started capturing its monthly growth images for memories and also sharing with my husband and friends. My heart said that there was a baby girl inside.
I did not let my pregnancy hinder my regular active life. With my instincts and husband's encouragement I decided to go back to Kargil. On the day I arrived at Leh, we explored the city, shopped and ate – all this without acclimatizing, a medical advice given to all tourists by the Government.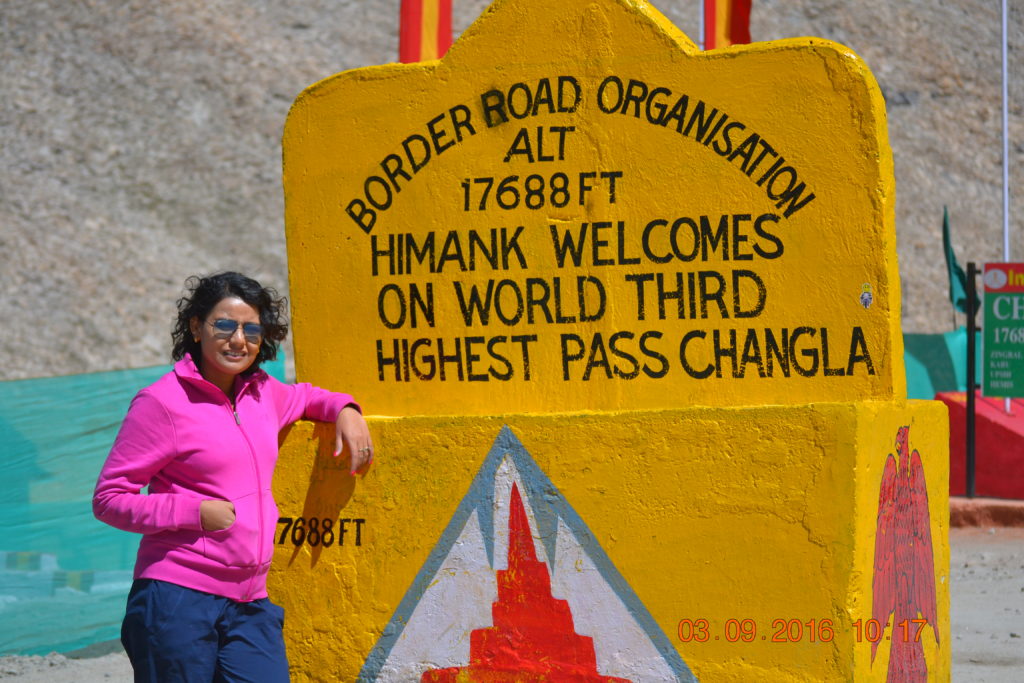 Day 2 was another challenge, which I was unaware of. We got on to the trip to Pangong Tso Lake. It's a six hour route of rugged roads crossing high mountain passes. I had carried enough food to ease my hunger on the way. Also, the clean toilets, medical, tea and water facility set up by the Indian Army for tourists were a great help.
This journey involves traveling through Changla pass, world's third highest pass at an altitude of 17,586 ft. At this point normally there is low air pressure and oxygen. We stopped here and got my oxygen level checked which came out to be fine. What awaited us was unimaginable and totally worth all the aching head, back and bladder! PangongTso Lake at 14,270 ft. is like a fairy tale. After staying for around two hours, we hit the rough roads again for another six hours path back to Leh.
Day 3 I had an awesome five hour road trip to Kargil, which is the best part of Ladakh. I'm grateful to have witnessed this spectacle of nature!
I must say I was very lucky to have no adverse symptoms of pregnancy except for low BP and weakness initially. From fifth month onwards I suddenly started craving for sweet stuff (I was never fond of sweets!) I ate all that I craved for. My neighbours pampered me with desi ghee ke laddoos 😀 I kept doing exercises and going for walks too.
When I went for ultrasound in my sixth month I experienced something I had seen only in movies. I saw my fully formed baby sitting with one leg over the other, moving its arms. I could see its heart beating and mouth opening and closing like that of a fish. Then, suddenly it raised one arm and gave a salute! (Fauji kid you see!). It was an overwhelming moment, especially witnessing it with my husband for the first time! This miracle of nature, a new life developing inside another, is simply amazing!!!
During our Brigade's Diamond Jubilee celebration, I contributed and participated in the various events and danced my heart out in the parties (dance freak you see ;)). Everyone around me couldn't help themselves from asking me to take it slow.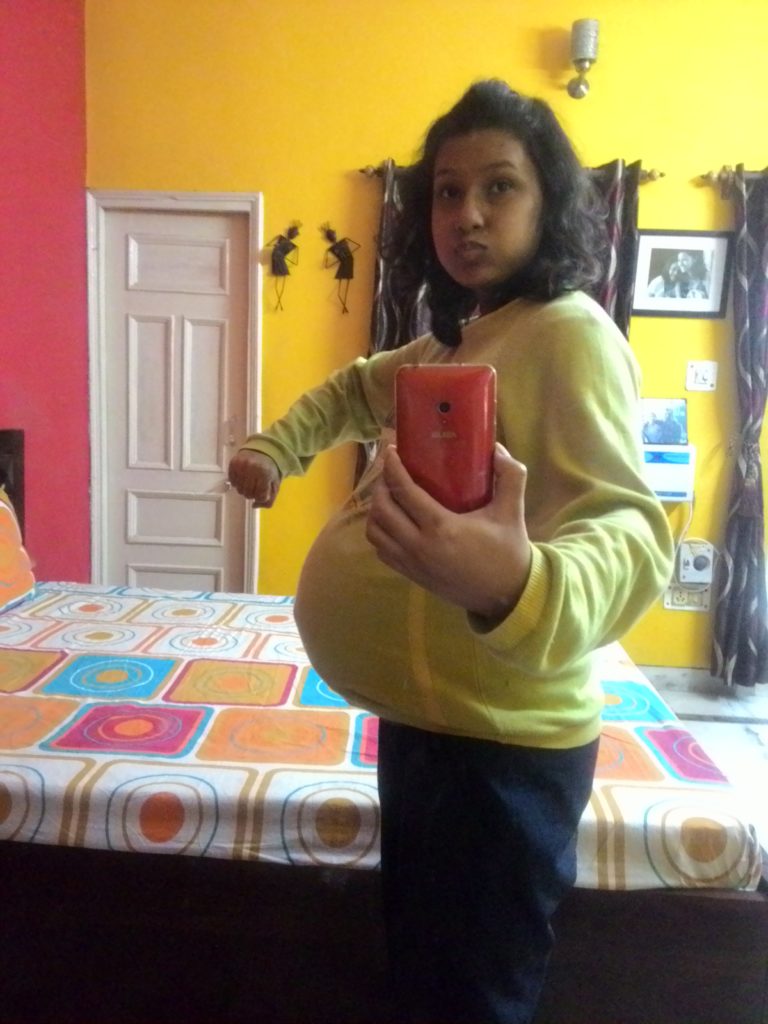 In my seventh month, my parents and in-laws paid us a visit. As a good host I accompanied them to all the places in Kargil and Leh, and then traveled back to Delhi with them. Thereafter, I finally gave a break to my random long distance travels and stayed with my parents. Nevertheless, this did not confine me to the house. I was out with my friends even a day before my delivery! By the final month my belly had grown so huge that people started asking me if I was carrying twins…haha!
All in all, I had a wonderful, healthy and thrilling nine months journey with my baby.
I'm glad that we gave her a taste of traveling even before she was out into this world. My husband and I are travel bugs and now our daughter (Yes, my Piscean intuition came true!!) too has joined our club!
Warning – The incidents and experiences mentioned above are subject to a person. Please take doctor's advice before you plan an adventure!
*All the images are owned by the author.